Three Suggestions for exploring Intercultural Lisbon
Jan. 24 2020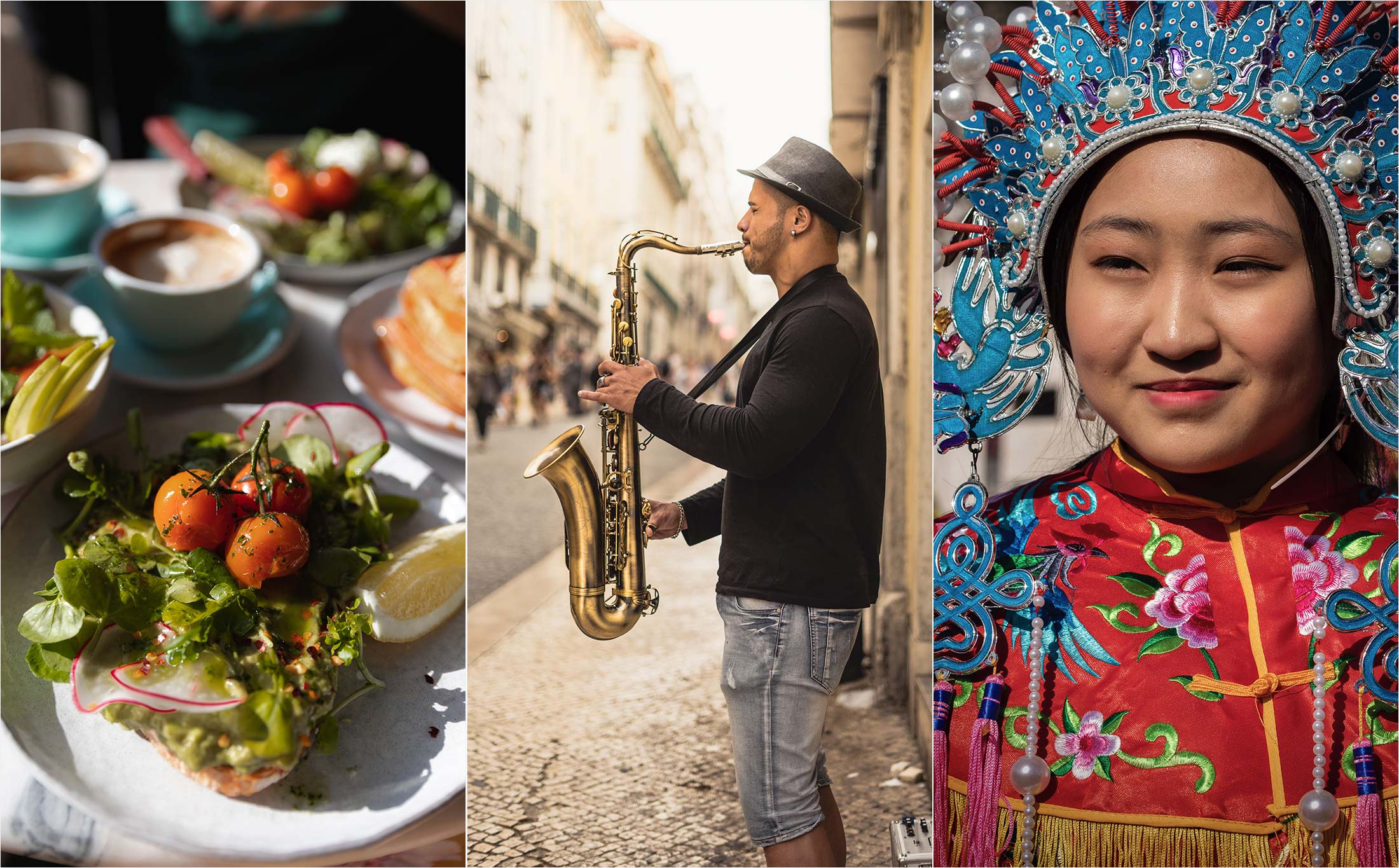 Ask yourself, how many worlds can you (re)encounter in Lisbon? Within 100 km2, Lisbon, the second oldest city in Europe, is constantly crossing cultures. From Asian to African, you can find everything in the typical alleys of intercultural Lisbon: behind the restored facades – of buildings with decades of history – are genuine treasures from all over the world. After all, Portuguese people have always been known for their hospitality. If you have a strong interest in interculturality, make the most of your stay at Heritage Hotels to discover the surprises the city has to offer.
Suggestion 1: Fall in love with the cultural offer that embraces diversity
Let's start with leisure, with the challenge of taking a break from form in exchange for relaxation. A former munitions factory that today lives on as a hymn to bringing different cultures together. How? At Fábrica do Braço de Prata, you will find a building devoid of luxury, but full of talent, art and a good glass of wine to guide you through photo exhibitions, fine arts and concerts that every week present promising new artists in the music industry, whether it be jazz, salsa, bossa nova or blues. All melodies are welcome, as long as they are genuine.
There is also a small restaurant that blends in with the life and sounds of the other rooms in this house open to uncompromising interculturality. A space for sharing, easy friendship and, above all, the joy of being part of this encounter.
Suggestion 2: Travel miles between signature dishes
We left the plane behind, but not the trips. Portuguese chefs are increasingly betting on fusion cuisine. On the interweaving of culinary elements. On recreation.
The most recent restaurant in the Beato area, Tarara, is a perfect example. The name, at first unusual, stands for an old winnowing machine that separates the wheat from the chaff. It is the best analogy for those who want to bring experiences that deliver the essence of different cuisines. After years of experience in different kitchens, Chef João Duarte has reinterpreted symbolic recipes from various cultures, in order to deliver new experiences and sensations. We don't give the palate a break.
Suggestion 3: Because exclusivity is the real must-have…
…to shop, go up to Príncipe Real. Dubbed the 5th coolest neighbourhood in the world by the editors of Time-Out magazine, on top of this hill – besides the view from one of the most beautiful viewpoints in intercultural Lisbon – you will find streets that are a succession of findings. Between bars and cocktails that invite you to toast to this city, produce markets on Saturday mornings and street kiosks (which seem small for the flavours they have to offer) – this neighbourhood is an invitation to walk with no time constraints.
Our special recommendation goes to the concept stores that will certainly draw your attention, either for their themed window displays or for the exclusivity of their items. After all, more and more celebrities bring their curatorship to Lisbon. One of them is Bosnian fashion designer Lidija Kolovrat, who has transformed the space of a former bakery in the heart of Lisbon. In her shop and atelier you will find a unique atmosphere, which makes the perfect match with her bold garments.
Are your ready to explore intercultural Lisbon?



Also check out:
Heritage Solar do Castelo – The experience of living in a Castle
Hotel Britania: The Heritage that preserves the 1940s
Heritage Avenida da Liberdade: connecting the past with the present, on Lisbon's most exclusive avenue
Image Credits:  Iulia Topan,  Daniel Angele and Alex Paganelli on Unsplash