Heritage Collection – Boutique Hotels, just because
Sep. 04 2020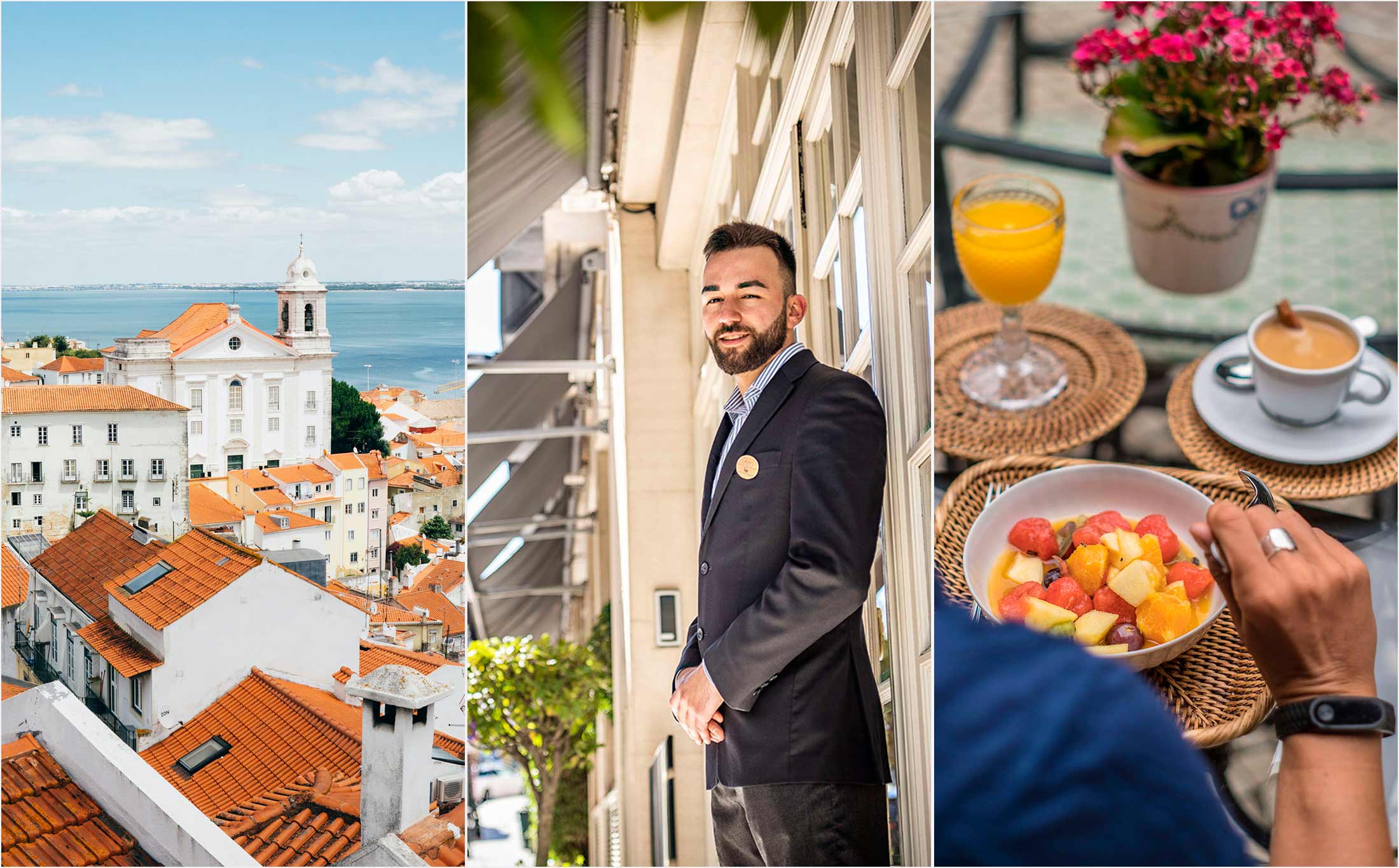 The Heritage Hotels Collection alone has many good reasons for you to visit and make your stay in Lisbon even more enjoyable. Each of its five Boutique Hotels has a unique personality and provides a distinct experience, whether it's for a short break, a romantic weekend for two or a family holiday. With the seal of the "collection", they share the highest standards in service excellence, comfort, include breakfast to delight all guests, the comfort of carefully selected mattresses and pillows, immaculate cleanliness and attention to detail, which underpin our name, and, of course, the decoration itself, whether modern or period in style, or simply like your holiday home.
We firmly believe that serving as we do is the way to collect, besides hotels, also the best feedback and reviews that motivate us and make us want to continue working more and better, to meet expectations.
Enjoy our comfortable rooms and private bathrooms, some with details that make them unique. If you come with family or friends, you will want to know the spaces we have to offer: totally private and independent rooms, but with exclusive communication.
There is also another feature you may give in to when choosing a good hotel in Lisbon, with an amazing quality/price ratio: the silence. Prepare yourself to relax, at the end of a day well spent in the Portuguese capital, in the deepest peace. The peaceful environment, the acoustic insulation that stifles all the sounds of the big city, and the invitation to slow down the frantic pace of everyday life, ensure that you get a good, quiet sleep, without having to escape from the city centre. If you choose a privileged view of the Tagus river, you will most probably realize that, on your holidays, the Hotel was not just the place where you slept. It was the place where you lingered during your stay.
Distance to the airport
What if landing at Lisbon airport actually meant being a few minutes from the comfort of your Hotel room?
One of the toughest moments of a trip is to arrive tired, wait for your luggage and then still have a long journey ahead until you reach the Hotel. In big European cities, staying near the airport means giving up a well-located hotel, in the city centre and close to the main attractions. Sacrificing the daily comfort of being in the place of excellence for the convenience of the first hours is even pointless. However, when you stay at one of our boutique hotels, you don't have to choose.
When you land, we will be waiting for you in the city centre, on Lisbon's main avenue, at the top of the castle that keeps watch over the city or in the palace overlooking the Tagus river. We know you will be arriving soon.
We're about 10 km from the airport.

How do I get there?
Transfer service
If you need, for your convenience, we have a transfer service that will take you directly to the Heritage Hotel of your choice.
Rent-a-car
You may also have planned to rent a car for your holidays, in which case you will be a few metres from the place near the airport where you can pick up your car.
Taxi
If you have other plans, and if you prefer speed and convenience, you can always choose to take a taxi, usually readily available and without waiting, or a similar service through apps like Uber, Cabify, MyTaxi, Bolt, etc.
Aerobus shuttle
This bus is specifically designed to transport tourists and has two pre-defined routes. Aerobus 1 connects the Airport to Av. da Liberdade and Praça do Comércio.
Useful information: It will be necessary to purchase the 24h Aerobus Pass. You can buy it on board, online at www.aerobus.pt, or at the Lisbon Tourist Office (Turismo de Lisboa) at the airport. The ticket is valid for 24h, with unlimited trips on the Aerobus network.
Direct connection to the following Heritage hotels:
Av. da Liberdade, Lisboa Plaza and Britania.
Requires transfer to the following Heritage hotels:
Solar do Castelo > Aerobus > Praça da Figueira (stop 8) > Bus 737
Janelas Verdes > Aerobus > Taxi / Carris Bus or Tram
Heritage Transfer Offer – Free Transfer Airport-Hotel by Aerobus
Offer valid for the time period: 04 Jan – 31 Mar and 01 Jul – 31 Aug and 01 Nov – 27 Dec
Hotels with this offer: Heritage Avenida Liberdade Hotel, Hotel Britania or Hotel Lisboa Plaza – please contact the hotel.
Metro
The Metro is an affordable option, with a much simpler layout than any other European city. Each station has its own decoration, which signs the route with art.
Useful information: It is necessary to buy an electronic travel card (Viva Viagem), which can be reloaded and used in all public transport in Lisbon.
Viva Viagem Electronic Travel Card: €0.50
Learn more: www.metrolisboa.pt
It is necessary to make 1 line change for any of the Hotels. Direct connection to the following Heritage hotels: Av. da Liberdade, Lisboa Plaza and Britania. Requires taxi/Carris bus or tram transfer to the following Heritage hotels: Solar do Castelo and Janelas Verdes.
Carris (Bus or tram)
You can also choose to use the city bus (Carris), but you will always have to change bus for any of the Boutique Hotels. Please also note that only luggage with maximum dimensions of 50x40x20cm is allowed. It is a good choice, mainly for travelling during your stay.
Useful information: It is necessary to buy an electronic travel card (Viva Viagem), which can be reloaded and used in all public transport in Lisbon.
Viva Viagem Electronic Travel Card: €0.50
Ticket (on-board fare): €1.80
Learn more: http://www.carris.pt/

How long does it take?
Car: 15 to 30 minutes.
Aerobus: 30 minutes (Av. Liberdade)
+ 10 minutes Carris Castelo de S. Jorge
+ 20 minutes Carris Janelas Verdes
Metro: 30 minutes (Av. Liberdade)
+ 5 minutes walking
+ 10 minutes Carris Castelo de S. Jorge
OR
20 minutes + 30 minutes Carris Janelas Verdes
You can use the following Transporlis app to obtain information on all public transport in the city: www.transporlis.pt

What can I see on foot?
Being in the centre of Lisbon gives you the best possible location to (re)discover one of the most beautiful European capitals. A characteristic light, an almost alchemist-like effect among the colourful buildings, Portugal's sun and the reflection that the Tagus river returns to the earth. From the Av. da Liberdade or Solar do Castelo Heritage hotels, you can walk to several points of interest in downtown Lisbon, all within a 5 km radius.
Architecture of Baixa Pombalina (downtown), Rossio Station and Rua Augusta Arch
Lisbon's Cathedral and Churches
Fado bars and restaurants
Elevators and Lifts: Santa Justa, Bica, Glória and Lavra
Nightlife district, Bairro Alto, Cais do Sodré
Janelas Verdes is only about a 15-minute walk to downtown. There is also a direct bus that takes less than 10 minutes.



Also check out:
Itinerary through Belém: Where mornings have a special charm
Three Suggestions for exploring Intercultural Lisbon

Image Credits: Tom Byrom on Unsplash