Hotel Britania awarded Silver Award Winner at the Historic Hotels of Europe Awards 2022
Apr. 19 2022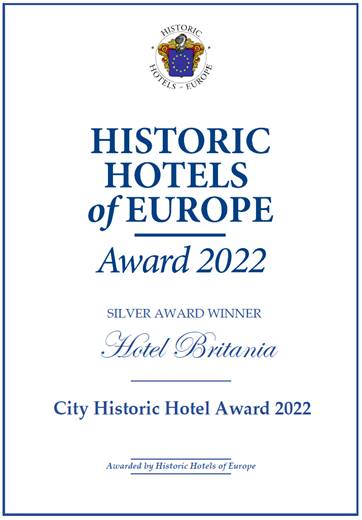 Hotel Britania was awarded with the Silver Award Winner by the Historic Hotels of Europe Awards in the Best City Historic Hotel category.
The Historic Hotels of Europe represent properties full of history and symbolism, from various countries in Europe. Some of the hotels are grand, others are small and unpretentious. What links them together is the fact that they are all an unbroken chain of tradition, linking guests to the generations that shaped and shared our history.
The attribution of these awards is based on the nominations made through the votes of guests and followers of Historic Hotels of Europe.
This international award is yet another acknowledgment of the hotels' dedication to offering quality and excellence service and represents the units that offer the most authentic hospitality in Europe.