Hotel Britania premiado com Silver Award Winner nos Historic Hotels of Europe Awards 2022
Apr. 19 2022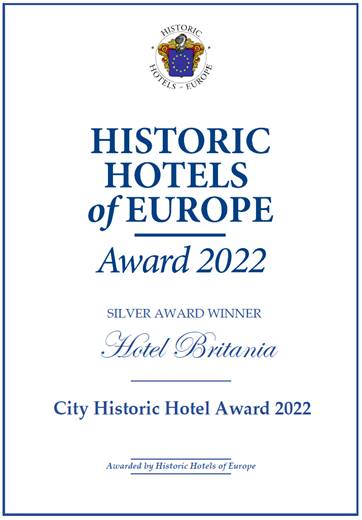 O Hotel Britania foi premiado com o Silver Award Winner pelos Historic Hotels of Europe Awards na categoria Best City Historic Hotel.
Os Historic Hotels of Europe representam propriedades de vários países da Europa, cheias de história e simbolismo. Alguns dos hotéis são grandiosos, outros são pequenos e despretensiosos. O que os liga entre si é o facto de todos eles serem uma cadeia ininterrupta de tradição, ligando os hóspedes às gerações que moldaram e partilharam a nossa história.
A atribuição destes prémios realiza-se com base nas nomeações feitas através dos votos dos hóspedes e dos seguidores dos Historic Hotels of Europe.
Este prémio internacional é mais um reconhecimento da dedicação dos hotéis em oferecer um serviço de qualidade e excelência e representa as unidades que oferecem a hospitalidade mais autêntica da Europa.