Hotel Britania welcomes veteran cosmonaut Mikhail Kornienko
Apr. 18 2019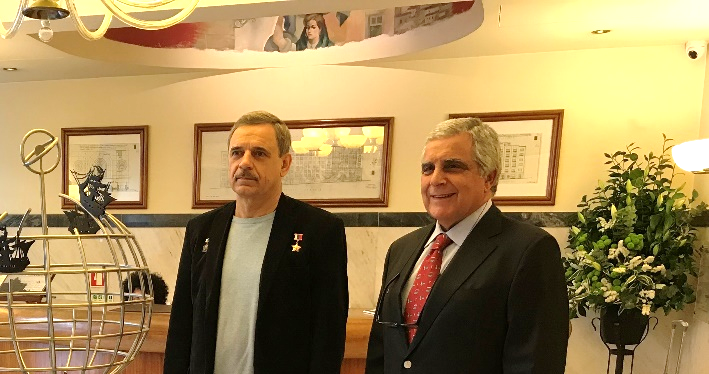 Russian cosmonaut Mikhail Kornienko was in Portugal last week to attend the lecture of the event « Sputnik-1, the Birth of the Space Age ». The Perspective of life in space by cosmonaut Mikhail Kornienko.
At the Faculty of Sciences of the University of Porto, the "Sputnik-1" replica was prepared, which was presented to the public on April 12th – exactly on the "International Manned Space Flight Day" and anniversary of the 1st manned space flight in history, which is internationally known and even recognized by the United Nations.
A veteran of two space missions, Mikhail Kornienko served as a crew member of the ISS Expedition 8 in 2003 and first flew into space on April 2, 2010 on the Soyuz TMA-18 spacecraft for a six-month orbit as a member of Expeditions 23 and 24 at the station, spending 176 days in space.
In 2015/2016 joined the « One Year Mission« , 340 continuous days space mission aboard the International Space Station, the longest stay of a human being at the station.
Hotel Britania belongs to the Lisbon Heritage Hotels that offers a collection of Small Boutique Hotels in the historic center of Lisbon – As Janelas Verdes, Heritage Avenida Liberdade Hotel, Hotel Britania, Hotel Lisboa Plaza and Solar Do Castelo.